HERCEGOVINA

Beside the road, which with its sunny, relief and vegetation dynamic Herzegovina, leads to the vast Adriatic azure, near Airport of Mostar, on the fields of an old road, which were conquered by imperial vineyards during Austro-Hungarian monarchy, plantations of organically cultivated lavender, rosemary and immortelle today seize with its color and scent, in the possession of Arome Ltd, Mostar, the company registered for cultivation of aromatic herbs and its processing.
PLANTATION

Among about thirty known species, and over two hundred subspecies, the land of delightful planting of imperial grapes for majestic wine, today is an exquisite host for 100 hectars of plantation, from which 35 hectars in full harvest of gentle and fragrant organically cultivated Lavandula angustifolia, also known as the Real of English lavender.

Beside the herb which is marked with many cosmetic and therapeutic properties, 5 hectars of rosemary also found its place there in order to complete the offer of these sophisticated herbs.

20 hectares of plantations are in full genus of golden-yellow organically grown immortelle - Helichrysum italicum.
PRODUCTS

In order for our AROME to satisfy the wide range of clients and respond to the requirements of the market, key products – lavender and rosemary oil is packed in small bottles, as well as in big barrels for mass usage.

Lavender oil is characterized by high percentage of ester (linalylacetat and linalool), and small percentage of camphor. Oil has gentle and a bit deeper scent, which makes it perfect for the industries of cosmetics and pharmacy.

Apart from its therapeutic properties, rosemary oil can be used for cosmetic purposes.

In addition to the essential herbs, we offer dry plants of all three of these cultures, lavender, rosemary, and immortelle. Immortelle​​oil is characterized by a high percentage of neryl acetate which makes it excellent for the cosmetic and pharmaceutical industries.
DISTILLERY

With its wish to secure obtaining high-quality oil, AROME owns 15m3 distillery for majestic essential lavender oil which is made with steam distillation of fresh flowers.

Also, uniqueness of AROME's distillery is its mobility, which gives it a special charm of tradition. Being always in move, this distillery makes the very process of extraction dynamic, making the connection between flowers on the plantation and valuable product ready for usage.
QUALITY

Similarly, for lavender cultivation, surpassing French Provence, Herzegovinian climate being mountain and lowland, coastal and continental, but unselfishly endowed with sunshine, is suitable for organic cultivation of lavender.

From over two hundred years old Roman recipes for beauty and obtaining therapeutic properties from this violet plant, today for lavender cultivation, extraction process, as well as storage under control, AROME does in accordance with EU regulations. In that way these valuable drops became the connection of rich history and the most contemporary way of production.
CONTACT
Arome Ltd
Ortiješ bb - Zračna luka
88000 Mostar
Bosnia and Herzegovina
Telephone: +387 36 352 621
Email:
info@arome.ba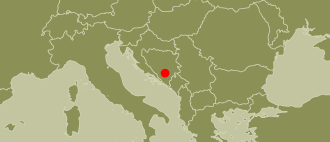 L
AVANDULA
The story about lavender goes back 2500 years in history from the time when there were first notes about its different abundances. It is assumed that the word lavender has its roots in Latin word lavare which means: washing, since Romans had the custom to enrich their baths with lavender. Herb from the Lanadula crop in which there are 39 species, from Roman times till today, finds their usage from the flower and perfumes all the way to famous therapeutic properties and aromatherapy.

Lavender is a local herb in the south Mediterain region to tropical Africa and southeast of India. Since it has always been important for herb medicine, it is commonly used for getting lavender oil which is used as antiseptic and for aromatherapy. It has served for mitigation of many diseases, so that many of its advantages are proven in modern scientific testing. Finally, more creative persons can use it as a spice in culinary.
R
OS
M
ARINUS
Rosemary, originating from the Latin ros (dew) and marinus (sea), meaning sea dew, which implies that sea breeze, is favorable for its cultivation providing humidity. Its acicular leaves have intense scent, as well as hot and bitter taste.

Rosemary stimulates circulation and blood flow towards the brain and in that way improves concentration and heals headache. Even thou it is dedicated to the goddess of beauty and love Aphrodite, rosemary is not only symbol of love. It is also a symbol of wisdom which strengthens memory. Likewise lavender, rosemary finds its usage in folk medicine and it is also used in cosmetic purposes. It is interesting that depending on the place of growth, there are three to four different chemotypes of rosemary oil, where each has its therapeutic properties. In culinary, it is used for aromatizing of vegetables and meat meals.
I
mmortelle
Immortelle (lat. Helichrysum italicum) is known as the everlasting flower: it never fades, even after it has been picked. This domestic herb can grow 60 cm high, has tight leafs and yellow flowers.

Traditionally it has been used for treating asthma, migraines, liver and skin problems. Because of these quality, today it has become an endangered plant.